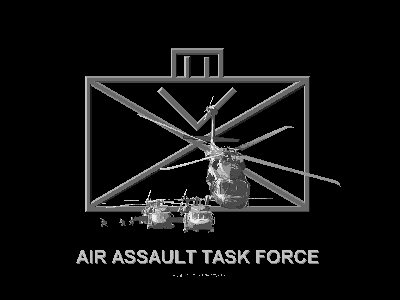 Last Update 6AUG06
Air Assault Task Force is an entirely new game engine. We have redesigned the user interface from scratch. We have completely re-thought how gamers play, and designed a game with playability first and foremost. Our goal was to create a game that retained all of the realism of our previous releases, but presented it in a natural way, that would require no effort to learn. We want our fans fighting the enemy, not the game!
Completely new graphics engine. Built on the latest DirectX technology, this game is shaping up to be our most attractive title ever. But this isn't eye candy! Every graphical upgrade is designed to make the game easier to use, clearer to understand, and more realistic.
A completely new paradigm. We have switch from the "select order-select unit" system of our previous titles to a "select unit-select order" paradigm which will be immediately familiar to players of real time strategy gamers and wargamers, alike.
Easy to play, hard to master. This game is not "dumbed down". The new simulation elements we have added to the engine make it even more fun to master than our previous titles. But you are going to spend more time facing intriguing tactical problems, and less time learning the interface!
As the name suggests, Air Assault Task Force explorers the complexities of air assault operations. From its birth in Vietnam, to the dusty battlefields of the Global War on Terror, you will get to coordinate attack aviation, light infantry, artillery, engineers, and armor in challenging, asynchronous warfare.
The history of air assault operations. Take command of 1st battalion, 7th Cavalry at LZ X-Ray and command air assault soldiers in Operation Anaconda. We explorer some of the most storied battles of helicopter-borne infantry throughout history.
Fight on the real terrain! No hexes or elevation levels in this game! You will fight on detailed digital elevation maps, with hand crafted terrain taken straight from the military maps used to fight the actual battles. The signature ProSIM Company map technology returns to bring you the most accurate terrain model available in any commercial wargame today.
Hyper-accurate databases. We have recreated the soldiers and equipment in this game right down to the Kevlar helmets and desert boots! From the 3rd battalion, 75th Ranger Regiment, to the soldiers of the British 16th Airmobile Brigade, we have painstakingly recreated every vehicle and weapon system in the game.
Built to replicate battles at the battalion-level and below, Air Assault Task Force is more realistic than any wargame before it. We started with the firm foundation of the Armored Task Force Engine, used by Lockheed Martin and many other defense contractors as a foundation for their simulation and training tools. Then we added all of the stuff that we just couldn't do in our previous releases. We built the game we always wanted to play! Here are just a few of the new features.
Vehicle damage. Rather than the "dead or alive" system of previous releases, vehicles and personnel will suffer damage to weapon systems and injury to personnel.
Vastly improved AI. Through its evolution the ATF Engine has been lauded for its ground-breaking AI. We have worked very hard to surpass this benchmark. Improved path-finding, new and improved tactical missions, and revised targeting algorithms make your forces even smarter, and make the enemy harder to beat.
Features
Learn more about the features that we are packing into Air Assault Task Force.
Downloads
Get free add-ons and upgrades for your release version of Air Assault Task Force.
Screen Shots
See some great screen shots which show off the artwork in Air Assault Task Force.
Calendar
Air Assault Task Force is here. This page tracks the milestones in its development.
ATF Arena
Check out who's playing who in the Armored Task Force Arena. Find challengers or watch games in progress.
Other Links
Free Demos
Try our software for FREE! Get special demo versions of our software to try before you buy.
Links
Check out these links for more information on BCT Commander, Armored Task Force, Air Assault Task Force, and other ProSIM products.
Online Help
Get help for all of your questions about using ProSIM Company Products.