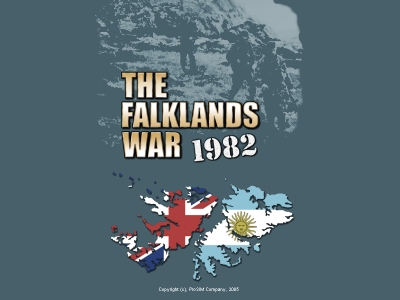 Last Update 17NOV06
The Falklands War: 1982 is the definitive treatment of this amphibious war in the South Atlantic. It has all of the features which Armored Task Force and Raging Tiger fans have grown to love. But it also adds a ton of new features, including variable training levels, dynamic weather effects, and air assault operations. Click here to see more.
---
Updates for All of our ATF Engine Titles!
Upgrades Available at Shrapnel Games website!

As we went through the development cycle for Air Assault Task Force, and took what was best from the ATF Engine, we identified a few things we could "police up" in the ATF Engine games. As we have completed development of Air Assault Task Force, we are now able to release all of these improvements to our earlier games, as free upgrades.

These are all cumulative upgrades, so you do not have to install previous upgrades. They are included in these new upgrades.

Below are the links for the downloads page for each title. See those pages, and the "Read Me" file for each game, for a list of the major upgrades in each title.

Armored Task Force
Version 1.08

Raging Tiger: The Second Korean War
Version 1.17

The Falklands War: 1982
Version 1.24

The Star and the Crescent
Version 1.33

Installing Multiple Titles in the Same Folder

As a reminder, for all of those who install all of the games on top of one another (to permit playing of older scenarios in the newer engine), you will need to reinstall the release versions of the games as well. Use this install order (omitting any titles you don't have--shame on you--and their respective patches).

ATF -> ATF Upgrade -> RT -> RT Upgrade -> TFW -> TFW Upgrade -> TSATC -> TSATC Upgrade

When you get Air Assault Task Force, you can install it on top of all of these previous games, and play all of the older scenarios in the AATF Engine, complete with the upgrades it provides.

Enjoy!
17NOV06
---
The Falklands War: 1982 Complete!
Game completed and sent to Shrapnel Games for post-production.
The Falklands War: 1982 development and BETA test teams have completed work on this definitive work on this South Atlantic conflict. The game has now shipped to Shrapnel Games for printing.
In the meantime you can check out the playable demo. This demo version includes two missions, a tutorial which recounts a historical raid of the SAS on Pebble Island and an infantry slug-fest over the key terrain of the "Two Sisters". You can download this DEMO by clicking here.
Right now, Shrapnel Games is offering a special on pre-orders of The Falklands War: 1982. You can purchase the game for $39.95. That's $5.00 less than retail! They will even pay the shipping. To take advantage of this great deal, click here.
31MAY05
---
The Falklands War: 1982 BETA Test Is Here!
Enroll now to be there when The Falklands War: 1982 is born.
The Falklands War: 1982 development team has completed work on the coding and is ready to begin post-production work. As part of this process, they will be assembling a team of BETA testers to help erradicate bugs and make final tweaks to the interface.
We are looking for players experienced with previous ProSIM Company products, such as Armored Task Force and Raging Tiger. (No biased toward paying customers, we just haven't finished the help files yet and it will be easier for these players to pick up gameplay.)
If you aren't selected, don't worry. As soon as we have the product together, we will be offering a free demo for download to anyone, to give you a taste of what's to come.
To sign up to be a BETA tester, click here. <Applications Closed>
26MAR05
---
The Falklands War: 1982 website launched
Stay abreast of all the latest development news for this highly anticipated release
The wargaming world is abuzz as this newest ProSIM Company game nears release. In fact, we have had so many questions that we are launching a new website to track the development.
Stay tuned to the TFW website for updates on the features that will be included in this ultra-realistic game. We will be frequently posting updates on the production schedule, latest news, and press releases about the game.
As soon as screenshots are available, they will be posted at this new website first. And keep coming back to the site, because the demo version, as soon as it is available, will be offered at The Falklands War: 1982 website before it is available anywhere else.
18MAR05
---
ProSIM Company announces The Falklands War: 1982.
Slated for release in early 2004, ProSIM and Shrapnel Games take you back in time to the amphibious invasion of these South Atlantic islands.
The Falklands War took place in 1982 and began when Argentina invaded the islands on April 2nd. The conflict lasted until June 13th, which saw the British forces victorious and the Falklands recaptured. The war itself was a curious mixture of modern, high-tech warfare (the sinking of the H.M.S. Sheffield due to an Exocet attack) and low-tech, in your face battles that could have taken place in any conflict over the past fifty years. The British were outnumbered on the ground, and were for the most part without true air cover, having only the aircraft that came with the task force. The amphibious operations were a potential disaster, as the landing fleet had been rapidly assembled for the upcoming conflict, with many of its members originally destined for the scrap yard. Yet training and valor carried the day, and in the end the British took the islands back and captured over 11,000 prisoners.
ProSIM's The Falklands War: 1982, will allow players to examine all facets of the conflict, from amphibious operations (made manageable by their relatively small scope) to naval warfare and special forces. Due to the nature of the war the game is well suited for portraying small unit combat and tactics, something which will be familiar to veterans of ProSIM's other products. Some of the game's highlights include:
Wage an entire war but at a small scale. Units vary in size from brigade to company level, with battalion sized amphibious operations possible.
Full featured naval integration: naval gunfire support, amphibious vehicles, landing craft, aircraft carriers, and more.
Extensive unit list of fixed wing and rotary aircraft, including the famous carrier- based Harrier jumpjet.
Highly precise maps have always been a hallmark of ProSIM games, and The Falklands War is no different. Period correct and digitally accurate British maps of East and West Falklands will be used to game on.
The chance to explore hypothetical situations such as the use of heavy armor on both sides.
The project lead, Gary Bezant, currently resides in the U.K. and has twenty-three years of military experience as an artillery officer. A longtime wargamer and history buff, Gary brings his expert knowledge of British military history to ProSIM and the game itself.
22JAN04