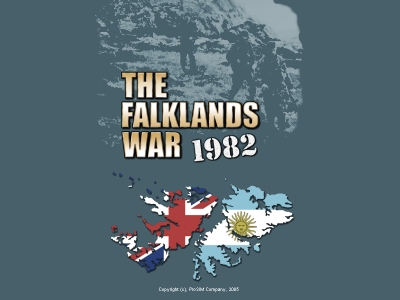 Last Update 31MAY05
The Falklands War: 1982 starts where Raging Tiger: The Second Korean War left off, and adds a whole suite of new features to the ATF Engine. All of the gaming goodness that fans of the Armored Task Force series have come to love is still there. This is our first, completely historic release, and we've started by adding a whole new dimension to game play.
History: interactive. This game has been described by early testers as an "interactive history lesson". We've started with period specific topographic maps, real graphics and operations orders from the operation, and a huge repository of vehicle and weapon data, and modeled every facet of this war. We've also included a ton of background information to help players understand the "why" of the battles.
Light Infantry Operations. The Falklands War was, at its hear, an infantry fight. TFW reflects that, with a ton of upgrades and changes to better replicate this kind of warfare. From maps that are hyper-detailed at closest zoom-levels to a completely re-designed database that is built to replicate everything from small arms fire-fights to bayonet charges, this is really the most realistic simulation of infantry operations at the battalion-level ever created.
What If... We have also used the resources to explorer a number of hypothetical situations that could have occurred in the war. What if the British had been forced to make an opposed landing? What if each side had brought armor to the island? What if the Argentines had been able to reinforce at key points in the battle? You will find out in The Falklands War: 1982.
We have added a bunch of new tools that will give The Falklands War: 1982 a whole new look and feel and give scenario designers all kinds of new treats to work with.
Skill Levels.

Players can set the skill level of each side at the beginning of scenarios, to increase the replayability of the game. But, inside the scenarios, individual elements have variable skill levels that reflect their relative training in ten different areas of military operations.

Dynamic Weather Effects.

Rain can blow in during a battle. Fog can set just before you reach your objective.

These effects alter visibility and mobility numbers and effect different units in different ways. Low cloud cover can ground your close air support but have no effect on ground forces.

Indirect Fire Simulation.

The ATF Engine has always been lauded for its indirect fire model. The Falklands War: 1982 takes this capability to a whole new level. Enemy indirect fire AI is smarter than ever, and will challenge you as never before. Variable weapon system accuracy will challenge you to pick the "right tool" for each target. In short, you will face all of the same challenges that the players on the ground faced in this short, bloody war.
We have really striven to give The Falklands War: 1982 a completely different look and feel from any of our prior releases.
High Resolution Maps.

Maps in The Falklands War: 1982 are drawn at a much higher resolution than in previous ATF Engine releases. This means that you can see contours and terrain features much more clearly at higher zoom levels. We've even painstakingly recreated, the British Ordinance maps that the British Army used to fight the actual battle and included them in the game!
Full Screen Campaign Start. We started where we left off with Raging Tiger and now have a full screen scenario selection interface, that immerses you in the history as you navigate through the scenarios.
More Room to Play. We have completed a number of other "tweaks" to the user interface. The Overview Map is now rich with depth to help you "see" the ground. The Clock Dialog has been replaced with a sleek, status bar clock. Illumination indicators on the status bar keep you informed on the available light on the battlefield. All of these small changes come together to make a much smoother gaming experience.
Features
Learn more about the features that we are packing into The Falklands War: 1982.
Downloads
Get free add-ons and upgrades for your release version of The Falklands War: 1982.
Screen Shots
See some great screen shots which show off the artwork in The Falklands War: 1982.
Calendar
The Falklands War: 1982 is here. This page tracks the milestones in its development.
ATF Arena
Check out who's playing who in the Armored Task Force Arena. Find challengers or watch games in progress.
Other Links
Free Demos
Try our software for FREE! Get special demo versions of our software to try before you buy.
Links
Check out these links for more information on BCT Commander, Armored Task Force, Raging Tiger, and other ProSIM products.
Online Help
Get help for all of your questions about using ProSIM Company Products.